Healthy Living Guide is a home for a group of writers who have successfully used alternative methods to heal themselves and their family and friends.
By reading their experiences you can become inspired and discover your own route to healing.
Our Team:
Helen Kirby
Following a childhood spent avoiding beetroot juices but quite liking her mandatory daily salad, Helen spectacularly deviated from this background for 20 years or more. Having finally seen sense and overcome the need to contradict her mother, the last 20 years have been very different. Helen discovered the rejuvenating benefits of good nutrition and living a healthy life. This culminated 8 years ago by her switching to a high raw diet. Helen is passionate about aiding others to achieve happiness through health. Most of all she believes in a gentle approach. No boot camps here!
Danielle Newcomb
Danielle Newcomb is a freelance writer, full spectrum doula, clinical herbalist, and homeschooling mother of 3. In her spare time, she enjoys bathing, sleeping, and pinning organizational ideas on Pinterest that she'll never implement.
Michele Austin
Michele Austin grew up in the frozen expanses of Wisconsin USA, and relocated to sunny Florida in early adulthood to escape the winter blues. Grasping the hypocrisy and dangers of western medicine from a young age, she has practiced natural wellness for 35+ years. Ms. Austin authored the book "They Lie and We Pay (With Our Lives)". Nicknamed 'Dr. Michele' by family and friends, Ms. Austin generously dispenses knowledge regarding naturopathic medicine and has facilitated many cures. Her passion is world travel (25 countries & counting), with an eventual goal of becoming a homeless wanderer. Ms. Austin is an Ultimate Killer Sudoku freak and an avid ballroom dancer. She is easily distracted from worthwhile projects by the call of karaoke.
Steven Myers
Hi I am Steven Myers and I am an alternative health and fitness expert. For years I had kept to the general consensus of what a healthy diet and lifestyle should consist of, but when health issues of my own were not being resolved by conventional methods, I looked into and used alternative health protocols to cure myself. Ever since I have been dedicated to studying everything I could about alternative health.
I now write to share my knowledge, to help others learn how to achieve true health and vitality. Health is so simple. We just need to learn how to use food to assist our bodies in new ways. The human body is a system of systems, so the only way to achieve optimal health is to heal the body from within.
Anna Mareci
Born and raised in Northwestern US, Anna recently relocated to New Mexico, where the sun shines most every day and basil thrives from April thru November. She has studied correlations between nutrition and health all her life, and enjoys keeping up with the latest developments on the alternative front. A dedicated hiker who loves steep climbs, Anna regularly takes in the view from high places, and retreats to Baja, Mexico for some down-time along the shores of the Sea of Cortez each spring.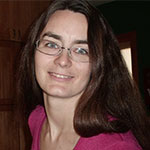 Julie Polanco
Julie is a homeschooling mom of four and just graduated her oldest. In her spare time, she is a master herbalist, amateur gardener, singer, and freelance writer. She is passionate about healthy living, having seen the benefits in her own life and in members of her family.  She is the author of two books, "Purpose of Plants: A Guided Study for Adults and Teens" and a homeschooling book entitled, "Finding Joy: A Christian's Journey to an Unschooled Life."